ASP Development
Chat Page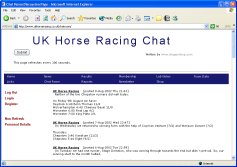 Click on the image for a selection of sample screens.
Introduction
Sometimes one requires an on-going noticeboard to which people can contribute in a chat, or discussion, fashion. There are a number of web-based noticeboards available on the Internet. However, for a simple non-threaded discussion page the options are few and far between. This set of Active Server Page scripts were written to cater for an obvious need.
Of course there are the various chat applications, such as Microsoft's MSN Messenger. But these have their drawbacks in that there are a limited number of people who can access the chat channel and also there is no persistant record of what has been written. Also a great problem with the Instant Messengers is that late comers to the discussion will have no idea as to what has gone before.
This collection of ASP code solves these problems and provides an excellent platform for a discussion web-based page which is fully administrated.
Server Requirements
The web server must be running Microsoft's IIS server.
Client Requirements
Because all of the work is done on the server where the database exists and where the pages are constructed then any main stream browser which can handle HTML can be used. The scripts have been designed so that the client browser needs no special plug-ins or ability to need anything other than a basic ability to read tables which has been part of the HTML specification for years.
Database
With this package an Access database is distributed. For larger companies the code can be run against other databases as long as an ADO connection can be made to it. So a database such as SQL Server could be used to hold the messages if required. In this case all that would be required is that the tables within the Access database be imported into the server database and the connection string (which is held in one of the .asp files) be modified.
Layout Customisation
All of the trimmings seen in the examples are held in server-side include files. This means that to edit the main title of the discussion page, the menu bar, the styles, etc., then edits would have to be made in just one of the each of the included files.
Installation
These scripts have been designed so that they can be installed and off and running in minutes. The default location of these scripts is to be one level down from the root folder of the site. If they are elsewhere then the file containing the connection string just needs to be modified.
We recommend that the database, if it is to be hosted on a web site, to be placed in a directory parallel to the www root folder. This is the ideal location for the database as it won't be able to be accessed directly from a client's machine but the code, which runs on the server, can access it easily. Full instructions will be given when the product is shipped. But, basically, all that is entailed is another folder to be created on the server with Read/Write privileges for the server.
We sold these scripts to a client recently who has very little knowledge of web sites, HTML and no knowledge whatsoever of ASP and they were able to get their discussion page up and running in less than ten minutes.
Example Sites
Two examples can be seen at www.ukhorseracing.co.uk and www.melonfarmers.co.uk.
Cost
The cost of this code is £50 or 70 USD. Contact Malcolm Smith for more information.